Layout Style
: Any, since this is userinfo.
Best view
: All
Browser(s) Compatible
: All
Work with Nav bar?
: Yes
Work with Ads?
Yes.
Credit
:
scholarslayouts
Preview: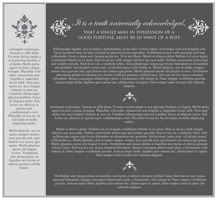 As per request, I've made a new userinfo code for you guys. Let me know what you think!
Feel free to play around with the layout, but please give me some form of credit.
It is preferred that you download the image to your own host! My links may disappear at any time.


I've included several different damask pictures with the two gray colors, so that you can play with them and come up with your own creative combination, if you so desire.

Header: Pride and Prejudice Quote
Header: Blank space for your own text

Damask One: Dark
Damask One: Light

Damask Two: Dark
Damask Two: Light

Damask Three: Dark
Damask Three: Light

Overrides:
To use the code, go to Profile > Edit Profile and place the code in the Bio box. Then take out the filler text and write your own stuff. Enjoy!
Current Mood:
cheerful